Raising Banjo the Barn Cat
First Week in His New Home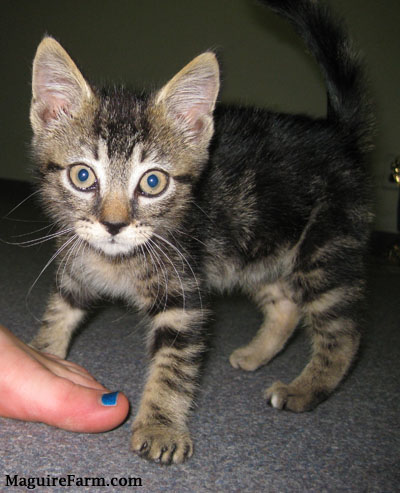 Banjo has adapted very well in his new home. He follows me around the house trying to pounce on my feet as I walk, then clumsily running into the back of my ankles when I stop walking. He purrs like a little motor too!
Round Worms
On Banjo's third morning at his new home he threw-up a little bit on the rug, nothing that couldn't be easily cleaned so I wasn't to worried until I saw what looked like a curled up rubber band. "Uh oh, Banjo where did you get that?" After picking it up with a paper towel to make sure I didn't get kitty throw up on my finger I tried to un-ravel it. Well this was no rubber band. Poor Banjo you have round worms! I was not too surprised since he came from an old barn. I took a picture with my phone and sent it to my mom and after a double check on the internet, sure enough it was round worm.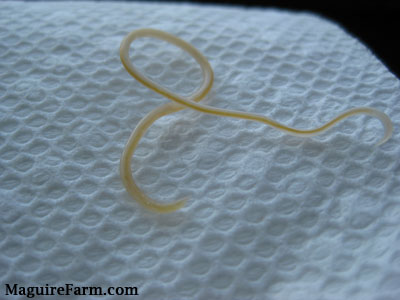 This is a round worm and it was about two inches in length resembling a cooked noodle.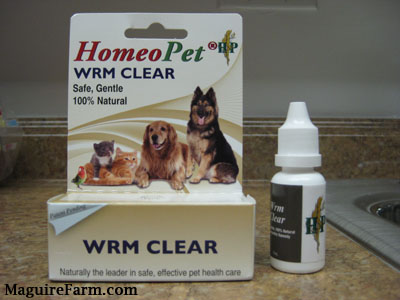 I bought a natural wormer called Homeo Pet that will kill hook worms, tape worms and round worms. Banjo will be getting five drops three times a day for fourteen days.
Banjo's Purr
A cat's purr is thought to be produced by using the vocal folds and/or the muscles of the larynx. The muscles alternately dilate and constrict the glottis at a fast pace causing air vibrations while the cat breathes. As a result the cat "purrs".
Banjo must have some strong muscles because his purr is super loud!
Lap Kitty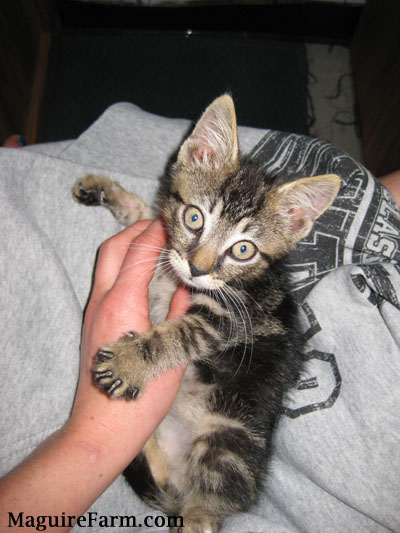 When I am at the computer Banjo will be by my feet either play-attacking them or trying to jump on my lap. He absolutely loves any kind of affection he can get! Heck, if I had fleas, ear mites and worms and someone got rid of all them and took me to a clean new home I would be happy too!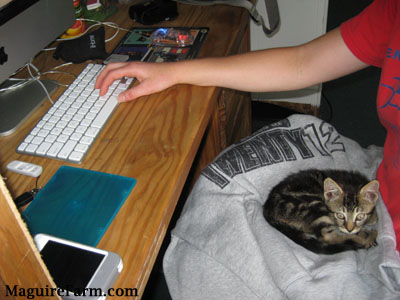 Banjo accompanying me while I update Maguire farm.
Banjo the Ninja Kitty
As I finished up some information for Maguire farm's current horses page, Banjo was by my feet again trying to get me to pick him up onto my lap. He really wanted to be the center of attention! Pay attention to me not the horses! I figured i'd go take my shower and then play with him after. I was only gone for maybe ten minutes but when I came back out Banjo was no where in sight. "Banjo, kitty kitty!? Where did you go??" I searched every room several times. Under my bed? Nope. Behind the fish tank? Nope. His cage? Nope. In the fridge? Nope. Where on earth could he have gone?! All the doors leading outside were closed and no one had opened them while I was in the shower. Hmm... I checked under, behind and on top of everything... except one spot. Behind this piece of furniture that takes up the space between my desk and the wall.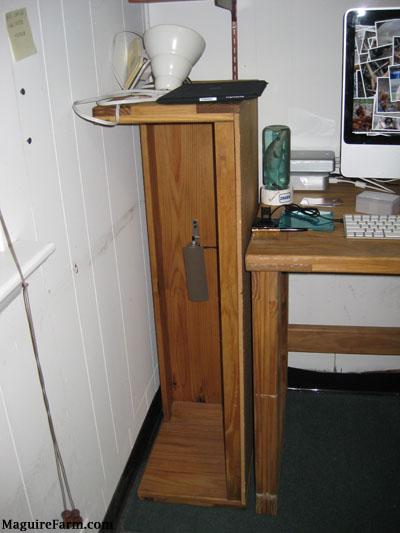 There are only tiny little spaces that I guess he could squeeze through. Sure enough he was back behind it!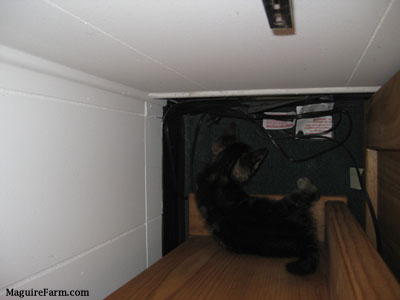 "Banjo, how on earth could you of squeezed behind there?! I know your small but not that small!"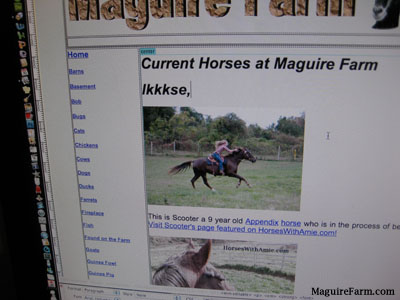 After I got him out I noticed that some random letters were typed on the horses page I was working on. "Could he have?.. No.."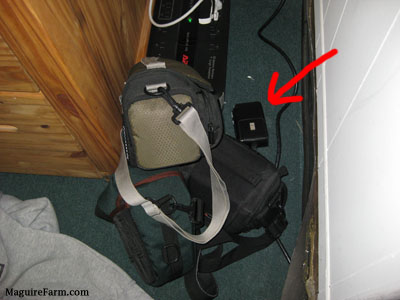 Then I saw that my camera case was on the floor and it sure was not on the floor before my shower. Banjo had climbed on top of some other larger camera travel cases, jumped onto my desk, walked across my key board then he proceeded to explore behind my computer causing him to fall down the small space. Yes that is exactly what he did! This theory wad proved true quickly when Banjo was trying to get me to pick him up again but I was ignoring him. He decided to take matters into his own paws and go through the same process to get on the deck so he would be front and center.
If you pay close attention to what was on the computer you will see how he changed the page! At first there is a picture of Banjo on my lap then by the end it is his top picture. A nice big picture of him with a bunch of random letters on the top. What a mischievous little kitty!
Meeting Bruno the Boxer and Spencer the Pit bull
Since Banjo had fleas and ear mites when we first rescued him, he never got to meet Bruno the Boxer and Spencer the Pit bull. The dogs saw him from a far but were not allowed near him. Once we were sure Banjo was clear of parasites, the dogs got to come for a visit.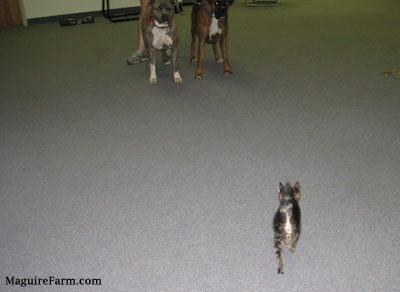 Banjo is no scaredy cat that's for sure! He walked right up to those big dogs all puffed out.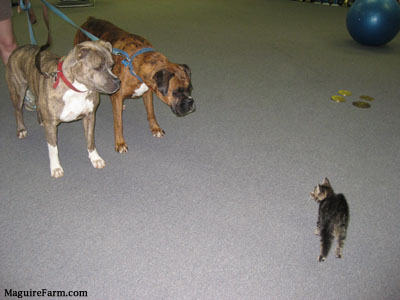 Banjo was not so sure about Spencer's energy because Spencer was not so sure he wanted to be around a cat but bruno was a pro at dealing with cats. All you have to do is lower your head and do as the cat says.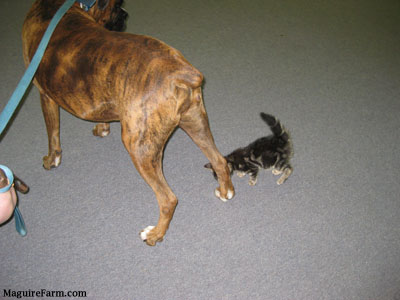 Banjo approved of Bruno right away.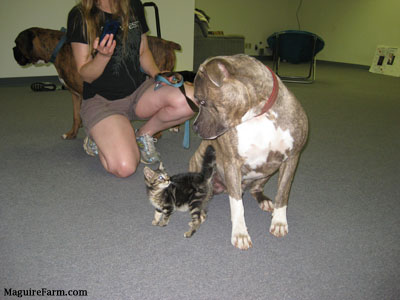 Spencer kept a close eye on Banjo just in case this little kitten decided to give him some claws to the face.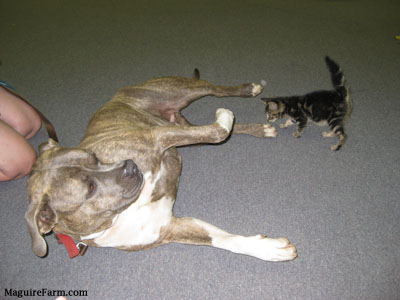 That's right young doggy, bow down to my superiority. Life will be much better under my command.